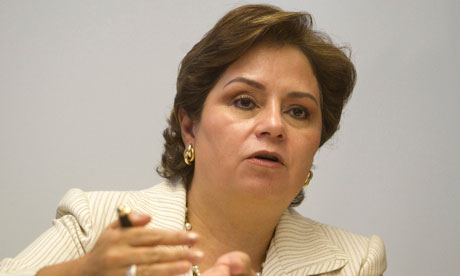 Cancun climate deal looking unlikely
Patricia Espinosa says success of talks should not be measured by whether countries agree on a new legally binding text
Mexico's foreign minister today dampened hopes of a breakthrough deal at the Cancun climate change talks in November, saying negotiators are focusing on making progress on smaller issues before perhaps seeking a comprehensive agreement in 2011 or later.
Speaking after a two-day meeting in Geneva that dealt with how to pay for carbon-cutting projects in developing countries, Patricia Espinosa said the public should not measure the success of the Cancun talks by whether countries agree on a new legally binding text to combat global warming.
"I don't think this is the right approach under the current circumstances," she told reporters. "Throughout the world there are really very different needs and interests."
Organisers of the Cancun meeting, including the United Nations and the Mexican government, are trying to inject a sense of optimism and trust among negotiators after the last major round of talks in Copenhagen ended in failure last year.